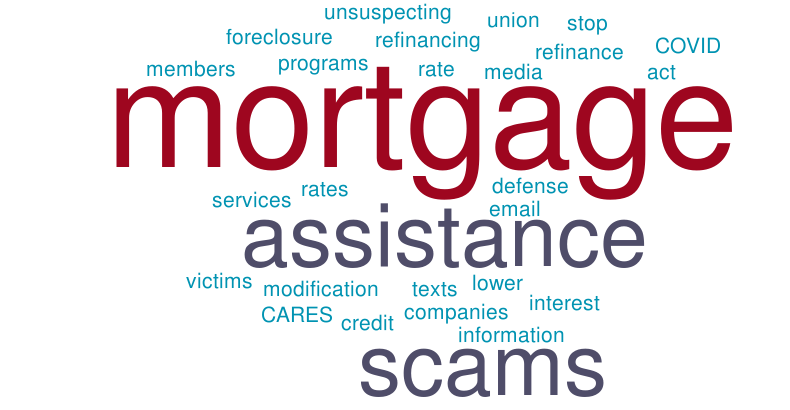 Protect Your Mortgage Information
COVID-19 has provided the perfect opportunity for scammers to obtain personal information from unsuspecting victims. Scammers are using mail, email, phone calls, social media and texts to try to get your personal information and your money. A savvy consumer is the best defense to protect your mortgage information against fraud.
Loan Modification Scams
Recently, a Members Mortgage Services (MMS) borrower received a phone call from a person claiming to represent the borrower's Credit Union. The caller said she could give the borrower assistance to bring their mortgage current if the borrower paid a $1,200 fee to catch up on negative escrow. Fortunately, the member was suspicious of the call and proactively contacted their Credit Union to verify before providing any information over the phone.
There is no shortage of scammers trying to take advantage of volatile consumers. Scammers may promise to assist with getting mortgage relief under the CARES Act, negotiate with a servicing company for a loan modification or stop foreclosure proceedings. If someone reaches out to you offering to help you stay in your home, be aware that these companies can do more harm than good. Borrowers struggling to stay current on mortgage payments, can easily apply for a loan workout by contacting MMS directly at 866.441.4447. MMS offers several assistance programs to members struggling to pay their mortgage due to COVID-19 and our special accounts team assists every step of the way. No legitimate program will require payment upfront.
Refinance Scams
Interest rates on mortgages remain low and scam companies are taking advantage of consumers with a high-interest rate mortgage or those behind on monthly mortgage payments.
Scam companies use several different tactics to try to steal your money. One tactic seeks an upfront fee for refinance counseling or a refinance consultation. The scammer keeps the fee without refinancing the home. Other scam companies promote low interest rates upfront but add extra fees or raise the rate at closing. One of the most devastating tactics a scammer uses is asking you to sign over the title (ownership) of your home while the company works to refinances your property. The company says they will give the title back once the refinance is complete, but what typically happens is the company refinances the property, steals the equity you've built and then lets your home go into foreclosure.
If you have a high interest rate and would like to see if you could benefit from refinancing at a lower rate, contact your Credit Union mortgage department directly. They will walk you through various refinance options to help you determine if you can benefit from refinancing your home.
Members Mortgage Services is here to help our borrowers protect your mortgage information. If you are questioning the legitimacy of a communication you received about your mortgage, please contact us and we will be happy to discuss.