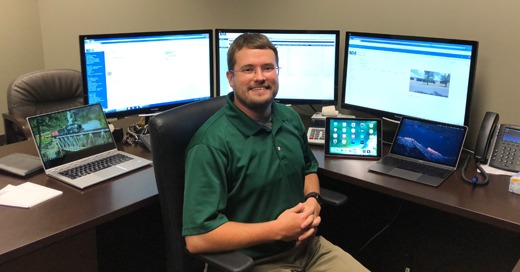 David tackles things when other shy away. In elementary school, one of his teachers saw David's natural curiosity for learning how things worked and introduced him to different technology. Today he's turned his hobby into his career – helping MMS and our partners utilize technology to the fullest.
David started at MMS in January. This newly created position gives Credit Unions a dedicated resource for the largest technology piece MMS has to offer, Mortgage Cadence. David is the first call for Credit Unions who need new user access or are experiencing technical difficulties. A pro-user technologist, he's empathic that the person on the other end of the line might not be as tech savvy. He's easy to talk to, focused on sharing his knowledge with others to get the most efficient results.
When he's not assisting our partners, David is enhancing the system and introducing new features and functionalities as the vendor rolls them out. He's also designed new capabilities within the system and is working on system integration to benefit our Credit Unions.
"I do what I can" is a phrase you'll likely hear when you connect with David. In work, and in life, he accepts challenges with a hunger to conquer. An outdoor enthusiast, David never turns down an opportunity to discover beauty from the seat of his motorcycle, a 250 feet tall zip line or an eight-man whitewater raft. We're thrilled to have David's can-do attitude working for the MMS Credit Unions.